Staying connected through
music and worship
During this time when we cannot make music in conventional ways, we invite you to stay connected with these new offerings.
Music and Worship on YouTube
Sunday Morning Worship is on the St. Peter's YouTube channel. These services included music from our archival recordings and new virtual recordings. The Introit and Alleluia for each service are recorded by members of the Choir from their homes.
You can also find more music and services in our Music playlist.
Living Tradition
This 2020/21 series celebrates 30 years of regular services of Choral Evensong sung by the St. Peter's Singers. Until we can have choral music again, we're taking Living Tradition online: livingtradition.online.
You're invited to take part in monthly conversations about music and worship at St. Peter's. And there's plenty more to explore on the Living Tradition blog.
Songs and Stories
Our Chorister training program takes a new form while we cannot gather in the Choir Room: Songs and Stories. Through music, we will explore the liturgical year, learn about the saints, and the stories of our Christian faith. All young people, age 7 and up, are invited to join in! Videos will regularly be made available for viewing.
We will also offer online gatherings for Choristers on Zoom. For more information, email the Director of Music, David Sinden:
Twitter Feed
This webpage is not updated very often, but our Twitter feed offers a sense of what's new with Music at St. Peter's.
Music at St. Peter's
The music ministry of St. Peter's provides an opportunity for young people and adults to become involved in the life of this parish through music. The parish music program includes the St. Peter's Choristers, the St. Peter's Choir, and the St. Peter's Singers.
During this time when we cannot worship as normal, the St. Peter's Choirs are gathering and making music virtually.
When we are next able to worship in the church on Sundays, the St. Peter's Choristers and Choir will resume their important role. Each Sunday at the 10:30 a.m. service the Choir leads the hymns and service music and sings choral music for the service (introit, anthems, and motets). Members of the Choir also sing for the 8:00 a.m. service once a month and also sing at weddings and funerals on occasion.
In addition to this music on Sunday mornings, St. Peter's provides monthly Choral Evensong services and occasional choral concerts, often with orchestra.
Recent performances have included Bernstein's Chichester Psalms (2017), Copland's In the Beginning (2019), the Duruflé Requiem (2019), Handel's Messiah, Parts 1 and 2 (2015) and 3 (2018), Lou Harrison's Easter Cantata (Midwest premiere, 2017), Haydn's Te Deum in C and "Lord Nelson" Mass (2016), and Mondonville's Dominus Regnavit (sung with the Kingsbury Ensemble, 2016).
In May of 2019, members of the St. Peter's Choir sang at the 50th anniversary of the re-hallowing of the Church of St. Mary the Virgin, Aldermanbury in Fulton, Missouri, the only building by architect Christopher Wren in the United States.
When they are next able to gather, the St. Peter's Choir will rehearse on Thursday evenings and Sundays before the 10:30 a.m. service. We welcome parishioners with advanced choral experience to sing alongside our professional staff singers. If you are interested in more information, please contact music director David Sinden at .
THE S. WILLIAM AITKEN ENDOWMENT FUND
The S. William Aitken Endowment Fund has been established to ensure a vibrant future for the music ministry at St. Peter's.
Bill Aitken served as St. Peter's Director of Music from 1984 to 2015, and the parish is committed to building on the strong foundation built during his ministry.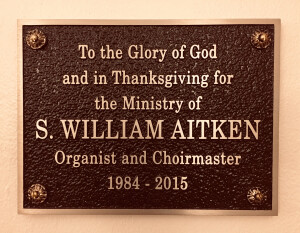 If you would like to ensure an enduring legacy of fine music by contributing to this fund, please contact the Church Office at 314-993-2306, or