Parish Choirs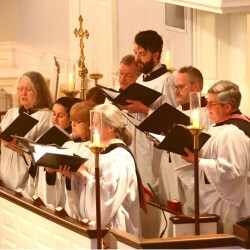 ST. PETER'S CHOIR
The Parish Choir of St. Peter's sing for the 10:30 a.m. service each Sunday and other major services and concerts. The Choir's repertoire is wide-ranging and encompasses music from plainsong to the 16th century to newly composed works. Recent premieres include "Here, O my Lord" by Sasha Johnson Manning, and anthems composed by St. Peter's organists. In May 2017 the Choir gave the Midwestern premiere of Easter Cantata by American composer Lou Harrison.
Members of the Choir also sing at the 8:00 a.m. service of Holy Eucharist, usually one Sunday a month.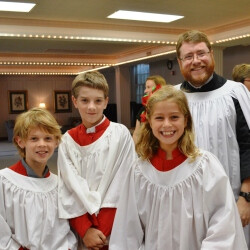 CHORISTERS
Using a progressive training scheme that values the intelligence and vocal ability of young people, the St. Peter's Choristers strive to make music at the highest level. Through fine choral music, the Choristers learn how to make music with their voices and the basics of music theory. Singing in this choir fosters self-esteem as the Choristers find the ability to make music from the printed page. The Choristers appear alongside the Parish Choir at services many times throughout the year. This Choir is affiliated with the Royal School of Church Music.
Open to young people ages 8 (7 for advanced readers) through high school.
No singing experience or religious affiliation is necessary.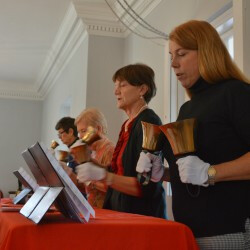 HANDBELL CHOIR
The Handbell Choir play occasionally on Sundays at the 8:00 a.m. Holy Eucharist.
---
Choir Recording: "A Year in Saint Louis"
The St. Peter's Choir recorded a CD in 2013: "A Year in Saint Louis." The CD is available for purchase at $15 per disc. To order call the Church Office at 314-993-2306 or email .
The disc, recorded on the Regent label, features 18 tracks of beautiful music and follows the choral year at St. Peter's, from Advent through Pentecost. Each season of the Church year is represented by one or more choral works from the Choir's regular repertoire. Six of these works were written specifically for the St. Peter's Choir, and five are recorded for the first time.
---
Choir Information
This information is intended for current members of the St. Peter's Choirs
Choir Schedules
If you have any problem accessing the current schedule, or you believe it to be out of date, please refresh the webpage and check again. If the problem persists please email