Now you are the body of Christ,
and each one of you is a part of it.
Students in grades 6 through 12 are invited to join an all-inclusive community that honors the unique gifts each person brings. Together students and invested adult leaders pray, serve, and have fun! Monthly fellowship opportunities foster relationships with one another and God. Yearly missions and regular service opportunities cultivate servant-leadership in Christ. St. Peter's Youth Ministry is building the body of Christ, one relationship at time.
Confirmation
In the sacrament of Confirmation, a renewed and mature commitment is made to follow Jesus Christ. The Bishop lays his hands upon the Confirmand and prays:
"Strengthen, O Lord, your servant Name with your Holy Spirit; empower him/her for your service; and sustain him/her all the days of him/her life." 1979 Book of Common Prayer, page 309.
To prepare for this big event, the students engage in a eight-month course of study, reflection, worship, service, field trips, and fellowship as part of the community of St. Peter's Church.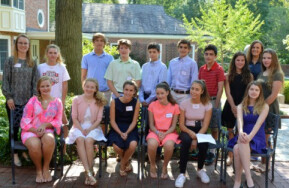 The Confirmation curriculum and events are designed to engage teens in the questions and concerns of faith within the context of Episcopal teaching and tradition, emboldening them to develop their own answers. Confirmands travel on this spiritual journey with the guidance of teachers, mentors, and parents, and with the support of the entire parish.
Confirmation Class begins in early September. The class meets every other Sunday at 9:15 a.m. to prepare for Confirmation during the Bishop's visitation in the Spring.
Confirmation instruction for adults is also available; please contact Kelly Carlson for information. Teens in high school interested in being confirmed are invited to speak with a member of the clergy to determine which course of instruction would be most beneficial to them.
2020 EYC Mission Trip
The 2020 EYC Senior High mission trip will be to the Appalachian region of Kentucky, June 14-20. Appalachian poverty is a major problem, largely unnoticed by the rest of the country. Our young people will be exposed to the poverty of Appalachia and the ramifications it has on other children. The cost of the trip will be $750.00. Watch for sign-ups soon!