Back to Blogs
The Sunday Evening Service: An Easy Fit with Your Summer Schedule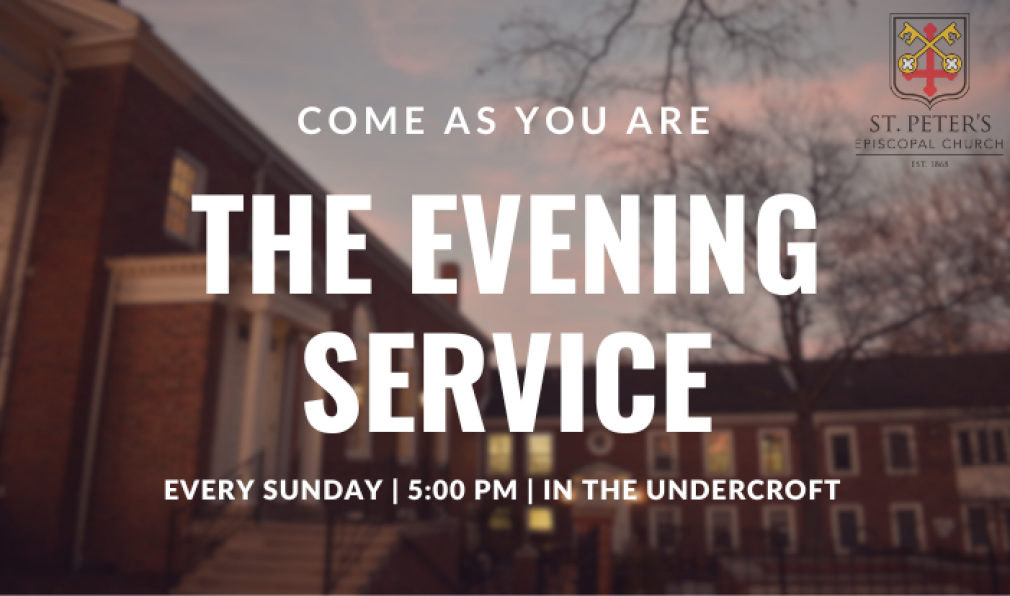 You're probably familiar with Sunday morning worship at St. Peter's. At 8:00 a.m. and 10:30 a.m. our church is filled with people and music and alive with energy. But there's a third worship service every Sunday: the Sunday evening service at 5:00 p.m. This service takes place in the Undercroft and is a more intimate, relaxed service. It is a full service of the Holy Eucharist, including the administration of Holy Communion, but there are some differences.
Come As You Are: The evening service is intended to be casual. Feel free to come in comfortable clothes, sports attire, work clothes, or anything else really. We want this service to fit in easily with your life.
Enriching Our Worship: The 5:00 p.m. service uses the "Enriching our Worship" liturgy which is relaxed, contemporary, and straightforward. It's a great opportunity to deeply and personally engage with the meaning of the liturgy.
Simple, Uplifting Music: We cherish our rich, powerful musical tradition at St. Peter's. The evening service presents an opportunity to enjoy music that is more simple. Most weeks, participants enjoy singing along to recognizable hymns with simple piano accompaniment.
As our summer schedules are often busy and changing from week to week, this service provides your family with an convenient and enjoyable opportunity to worship. Don't worry about missing church because you're returning from vacation or attending a child's soccer game; the "Come as You Are" service is there to fit into your busy life. Feel free to reach out to St. Peter's clergy if you have any questions, but the best way to see what this service is all about is to give it a try.