Back to Blogs
A Note from Kelly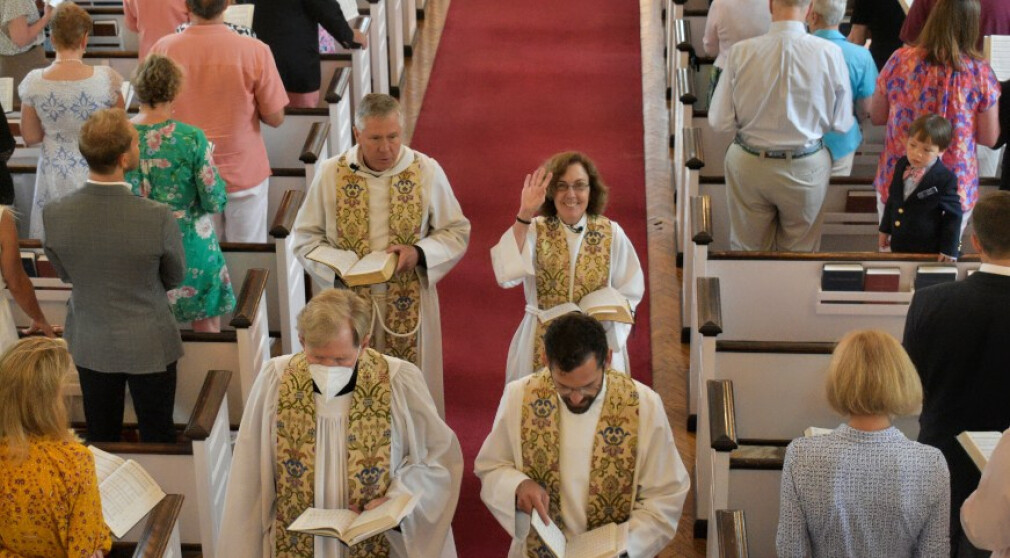 Dear St. Peter's,
In my wildest imaginings, I never could have pictured the final Sunday morning you gave to me as your Sr. Associate Rector on June 26. A full church at 8:00 and 10:30 on a summer Sunday was a wonderful gift in itself, but the outpouring of love and affection that I felt - during worship upstairs and after each service downstairs - was truly overwhelming. Along with all the cards, notes, meals, and gifts parishioners have shared with me over the past weeks, the generosity of this last Sunday touched me to the core of my being and will carry me in the doubting moments that lay ahead, the ones that always accompany a big move.
Kind and humbling words, spoken into the mic by my rectors - David, Luke, and Jim - and offered by so many with hugs and well wishes at the front door, were accompanied by the fruits of the creative planning and hard work of a talented and mighty team of St. Peter's merry makers. There was the incredible breakfast buffet, complete with the best doughnuts ever; a slideshow that highlighted so many terrific moments from our time together (along with some questionable hairstyles on my part!); and a delicious picnic lunch complete with a Snoopy cake and live music - rain is no match for Janet Rouse! And, in the midst of this amazing morning, you showered me with material gifts. The parish's Apple gift card, filling a definite tech need for my residency, was wonderfully thoughtful and generous. Hanging a commemorative plaque marking my tenure outside the sacristy - locale of so many sweet, funny, prayerful, and last-minute logistical moments with altar guild members, lectors, ushers, acolyte masters, acolytes, and clergy colleagues - was simply a shocker. Associate clergy do not get plaques! The children's fantastic "kitty" art in honor of my Gracie, along with toys and treats aplenty, touched my heart and will adorn my future fridge. And the offering of financial gifts by so many parishioners has left me gobsmacked (the perfect British word). For the next year, I will be earning a cpe resident's stipend; your amazing generosity will make that stipend stretch a lot further.
I am profoundly thankful - for the gifts, for the words and well wishes, and for the celebration. Most of all, I am profoundly thankful for our time together and for what each of you has taught me about faith and following Jesus. God bless you and guide you, and God bless St. Peter's - which needs each and every one of you to be the wonderful community of faith God is always calling it to be.
With gratitude and love.
Yours in Christ,
Kelly+